4 Famous Companies Acing Multilingual Customer Service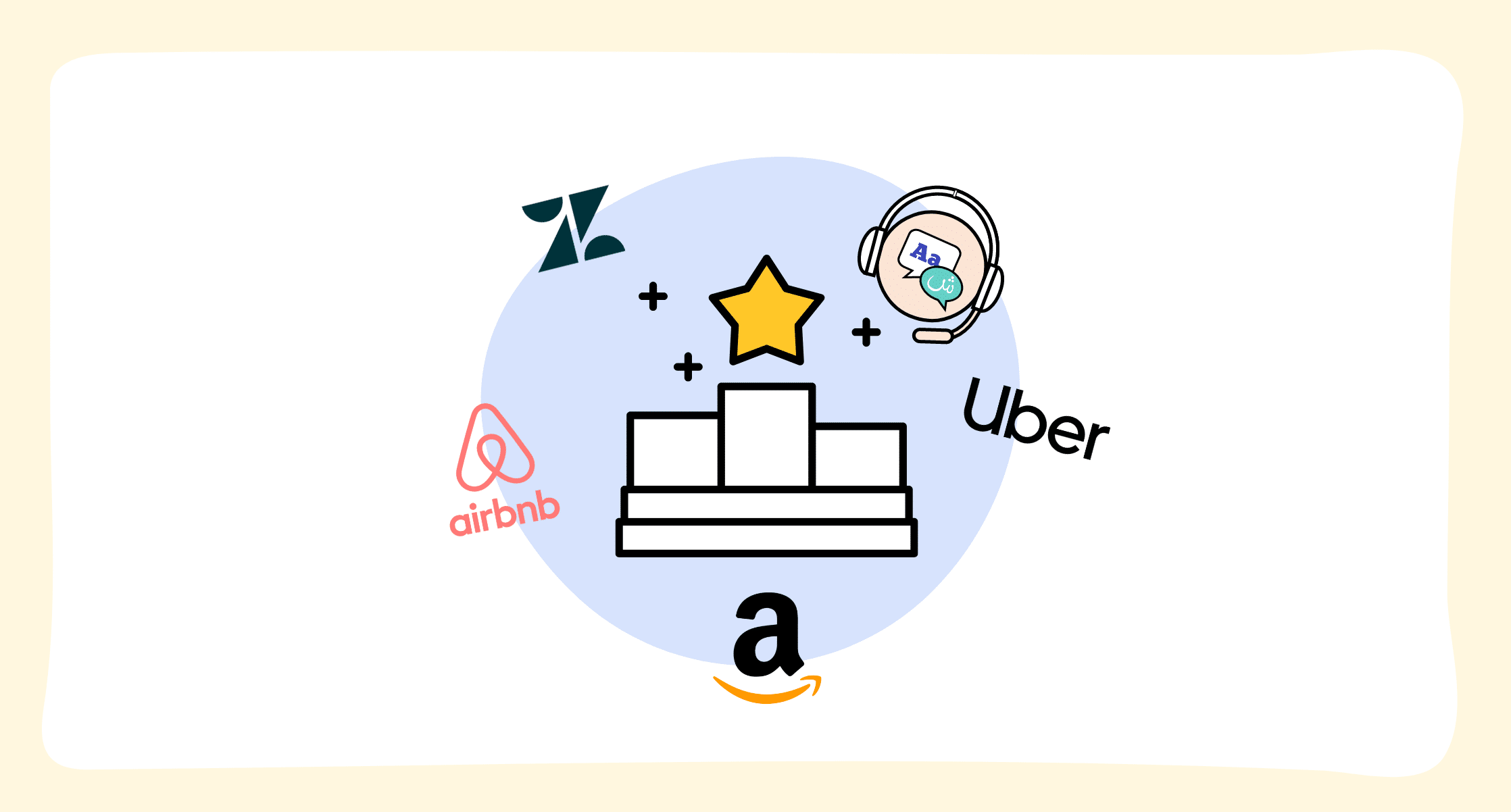 Though English is the most widespread dialect globally, it's not the only language spoken worldwide. A report from Statista reveals that 1.5 billion people speak English but there are also 1.1 billion people who speak Mandarin Chinese. Subsequently, Hindi & Spanish are the third and fourth most popular languages.
Now, any business that wants to scale up around the world would never want to miss out on such a large pool of non-English customers. This is why global businesses are now deploying multilingual customer service to their system.
In this blog post, we've discussed the four popular global companies that provide customer service in multiple languages. Before we go any further, let's first know what multilingual customer support is and why businesses should care about it.
What is Multilingual Customer Service?
When a company facilitates its service to customers in more than one language, it's called providing multilingual customer service. To build up a multilingual business, the company can translate its website, app, desk ticketing system, and other content into its customers' native language.
Why Companies Need to Provide Multilingual Customer Support
Imagine you want to buy a refrigerator and visit an electronic store, where you liked a product and enquired about it. A salesperson comes to you and starts talking about the refrigerator but in a language that you don't understand.
The salesman is well dressed, decent looking & the product looks promising too. But would you buy from him?
No, right?
This is exactly what happens with your target customers when they don't understand your business proposition. How can you expect your leads to trust you when you can't listen to their problems and talk about your solution?
This is why 70% of users feel more loyal to the companies that provide customer support in their native language. Also, 67% of customers are ready to switch brands due to poor customer service.
Here are the reasons why companies are now taking multilingual customer support into account:
Just like the refrigerator example above, your customers will always keep you at a distance if they don't decipher what you're trying to say. Thus, ensuring that your target customers relate to your business is crucial. It will build trust in them and make them loyal customers for life. Whether they're visiting your website or raising tickets– they would come back as long as they're feeling heard & satisfied with your customer support. 
Word-of-mouth can profit a business as no marketing can do. People like to talk about something that made their life better or worse. If you're providing a product or service that makes their day-to-day life easier, they would surely talk about you to others.
Providing them with a localized customer experience is a way to impress them and win them for life. They would tell others about your services and this would fetch more customers in your bag.
Getting genuine feedback from your customers– especially in a B2B setup– is extremely tough. It's usually more than (a) having your customers rate your service on a scale of 1-10 or (b) an objective answer of Yes/No.
Before anything, it's important for brands to make the customer WANT to give their constructive feedback. This is where localization kicks in.
Taking detailed feedback in their native language can be a game changer to your business. It reduces the communication gap between you and your customers. Customers can explain every bit of the issues they're facing and you could fix them to their liking.
Now that we know how multilingual customer experience can benefit your business, let's discuss the four famous brands already acing it.
4 Famous Companies Acing Multilingual Service
Remember the hashtag campaign #OneLessStranger created by Airbnb in 2015? Airbnb ran a campaign on its Twitter and Instagram handles to encourage its customers to share their experiences from all around the world.
People shared amazing stories about their experiences of being hosted by local people from distant corners of the world. This campaign was to tell people how hosts on Airbnb give you warm experiences irrespective of language differences.
But how did Airbnb make multilingual services possible?
The company deployed a Machine Translation (MT) facility on its app to make things easier – for both hosts and guests. The user can auto-translate any text on the app to the language they're comfortable with. This way, the guests can read information & reviews of a host in their own language. However, customers often need human interaction for the more complex queries like "Will the host be able to provide us with ice creams at 2 AM?" or "We have two toddlers who are going to be up all night – is the property sound proof?" Airbnb realized this gap too. Hence, they created a team of support executives who could speak more than one language. This ensured that their users could connect to the executives who speak their language & help them resolve their queries.
Under Amazon Comprehend, Amazon provides multilingual support to both its sellers and buyers. Amazon Comprehend is an NLP (Natural Language Processing Service) that enables businesses to scrape out valuable insights from the text in documents, social media feeds, customer support tickets, etc.
Since Amazon operates across 5 continents and 20 countries, it can't be run on a single domain. Thus, each country has its dedicated website for shoppers and sellers. The most famous languages supported by Amazon apps & websites are German, English, Spanish, Italian, Portuguese, French, Japanese, Korean, Hindi, Arabic, and Chinese (both simplified & traditional).
Apart from the above widespread languages, Amazon has also deployed regional languages spoken within a country. For example, in India, users can translate their Amazon app into Hindi, Telugu, Tamil, Kannada, Bengali, and Marathi.
Also, for sellers, the Amazon Seller Support Team availed call support in Indian languages other than English & Hindi. Sellers can now talk to Amazon support executives in Tamil, Telugu, & Kannada as well. Users can also utilize the platform in their native language for other services like FBA (Fulfillment by Amazon), accounts, access, etc. (Learn more)
What is the first thing that comes to your mind when you think of Uber? Rentable cabs, right? What if we tell you that there's a place where you can book a boat on Uber?
That's right! In 2017, Uber launched its sister app, UberBOAT, in Egypt. On UberBOAT you can hail & sail in a boat– whether alone or in a group.
In 2016, Uber also experimented in Toronto. When the company found out that more than 20,000 riders had used the Uber app in Chinese language, it clicked something.
The company realized the demand for local language support and took its localization to the next level. It launched an app called UberCHINESE in Toronto. The app served thousands of Mandarin Chinese speakers– both residents as well as tourists. Uber also hired Mandarin-speaking drivers to make their customer experience even more convenient.
Zendesk helps other companies provide quality customer support and communication. There was no way it could compromise with its own customer service.
Hence, Zendesk supports a number of languages on its product besides its default language English. Zendesk users can change their interface to their preferred language and can use the platform at their convenience.
Zendesk offers multilingual support in almost every part of your customer support channel. For instance, Chat Widget, Talk, Guide, Support & Chat mobile apps, Help Center, Answer Bot, etc.
Arabic, Portuguese, Czech, French, English, Hindi, Japanese, Korean, Polish, Russian, and Italian, are some of the many languages supported by Zendesk.
Multilingualism is getting popular among businesses around the world. Though we have only discussed four companies in this article, there are a number of other companies trying to bridge the gap of poor customer support in local markets. Thus, it's high time you grab this opportunity and transform your business into a brand.