Top 5 Unbabel Alternatives: Which is the Farest Of Them All?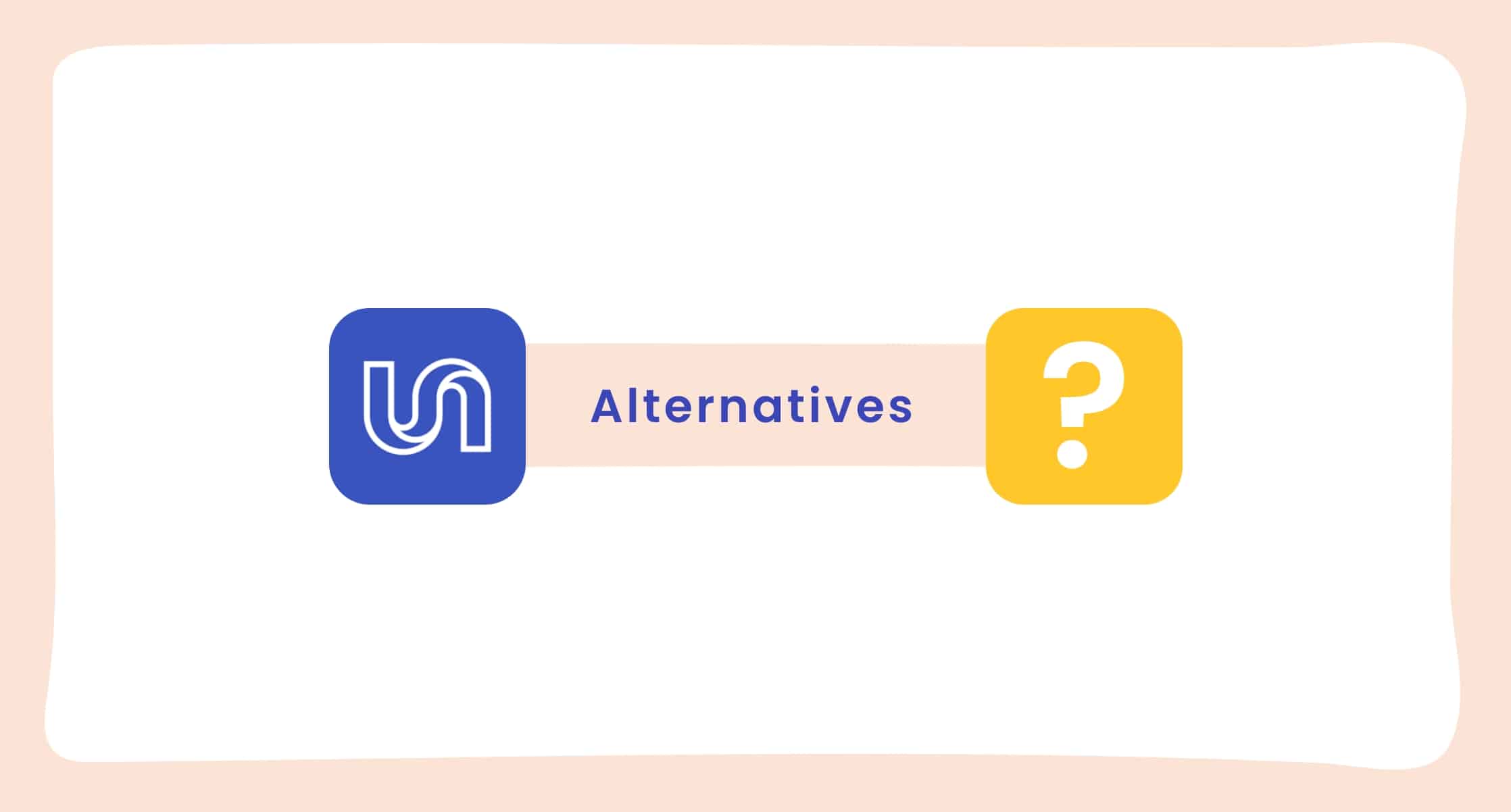 You have decided to modify organizational strategies to accommodate existing customer pain points and choose a tool to provide exceptional customer experiences at every touchpoint of the customer journey. But which tool? When it comes to a tool that will help brands offer seamless multilingual customer service – Unbabel is one of the top platforms. However, without a free trial to get hands-on experience, how can organizations decide if the tool works for them before undertaking a subscription? Or worst, what if after taking a subscription, you realize that value and ROI on tech spent is minimal?
This blog explores the top 5 Unbabel alternatives — Lingpad, Language I/O, Transfluent, Lokalise, and Transifex — all offering at-par features, or even better features in some cases, without the expensive price tag. We take a deep dive into the pricing, features such as human translations, free trial, and monthly invoicing options without a yearly-binding contract. You can also find a tabular comparison of other features to make the right choice for your brand at the end! Read on to learn about the tools that will help you achieve your multilingual customer support plan without taking a massive chunk of your localization budget!
Lingpad offers an agile translation management system for multilingual customer support, which helps boost customer satisfaction globally. Lingpad's comprehensive features help provide local support to global customers through support tickets or knowledge base articles easily.
Pricing: Lingpad doesn't have a one-size-fits-all pricing structure – the pricing is set based on your brand's localization requirements. The 'Pay-As-You-Go' Pricing Plan gives brands unrestricted freedom without the limitation of a monthly or yearly plan. Lingpad also provides unrestricted access in terms of hosted words, collaborators, projects, integrations and platform features. In terms of support tickets, incoming tickets are translated free of charge. AI-powered translations are charged a low, consistent rate of $0.005 per word.
Human Translations: Unlike the few platforms discussed further in this blog, Lingpad offers human translations in 180+ languages for both Support and Knowledge Base translations either through their platform or by partnering with ISO-certified Language Service Providers.
Yearly-binding Contract and Monthly Invoicing: Since Lingpad doesn't work on a subscription or plan-based model, there is no yearly-binding contract. All your localization charges can be invoiced monthly or as and when it happens – your choice!
Free Trial: Lingpad offers access to all of the platform's features during the 14-day free trial, which means that even if you are a paying customer or still just deciding if Lingpad is the right platform for you – you get uninhibited access. So, your team can utilize all the features that Lingpad offers as soon as you sign up! 
Language I/O is a proprietary machine translation software that alleviates the need to hire and train multilingual agents.
Pricing: Language I/O works on a subscription-based model starting at $499/month which amounts to $5,988/year if you choose a monthly subscription or $5,689/year for a yearly subscription. The subscription amount equals to 5988 credits which can be used for human or machine translations. Note: Human translations have a higher credit charged per word compared to Machine-translated words.
Human Translations: LIO does offer human translations. If there is an issue with the initial machine translation, the agent can select human translation for "retranslation". 
Yearly-binding Contract and Monthly Invoicing: The yearly all-inclusive subscription model was launched only in November 2021 (Source: Multilingual). Monthly invoicing works based on your requirements.
Free Trial: Language I/O has a free trial of 14 days. During the free trial you can add 5000 words of content to be translated in 4 languages.
Transfluent allows brands to translate customer support communication in 77 languages. The translations are edited and proofread by qualified editors before delivery which assures translation quality. However, when it comes to customer service platforms, Transfluent doesn't have a Zendesk Guide integration, leading to it being a counter-productive choice for brands with multilingual knowledge bases.
Pricing: Pricing for the Transfluent App for Zendesk Support starts is at a flat rate of €3 per outgoing translated message, while incoming multilingual support tickets are translated at zero cost. Transfluent accommodates custom pricing for high-volume localization requirements.
Human Translations: While human translations are available on Transfluent, it is not available within the Transfluent App for Zendesk Support. This becomes problematic in customer support cases which require a human's interference.
Yearly-binding Contract and Monthly Invoicing: Invoicing is only available once you have subscribed to one of their subscription packages (Transfluent).
Free Trial: Transfluent offers a free trial after you start your subscription with them, which means brands don't get to get hands-on experience to test and see if the platform works for their goals.
Lokalise is another strong Unbabel competitor that helps brand provide exceptional multilingual customer service in 100+ languages. With an impressive list of integrations (Salesforce, Intercom and Zendesk) and features, Lokalise stands out as a translation management system.
Pricing: However to access the above mentioned integrations, you need to be on the PRO Plan which starts at $825 per month with annual billing valuing at $9900/year, $990/mo if billed monthly valuing at $11,880/year. Additionally, the PRO plan allows brand to invite 15 collaborators with an additional $55/month charged for each extra collaborator. (Source: Lokalise)
Human Translations: Lokalise offers human translations by partnering with Language Service Providers dedicated to excelling at multilingual customer service.
Yearly-binding Contract and Monthly Invoicing: Depending upon your preference, you can choose between monthly or yearly billing.
Free Trial: Lokalise offers a full-access 14-day free trial after which you can put on a "Free Plan" which includes 500 hosted words, 2 seats and 2 projects.
Transifex is a leader in localizing App and Digital content but when it comes to multilingual customer service, using the platform might be counterproductive for some brands. Read on to know why!
Pricing: Zendesk, one of the leading customer service platforms, is available only in Transifex's Premium and Enterprise plans as an add-on. The Premium plans start at $105/month for annual billing (annual value amounts to $1260) and $125/month for monthly billing (annual value amounts to $1500). Which means that you have to pay an additional amount on top of your subscription amount to integrate Zendesk with Transifex. Note: Transifex plans also include a restriction on the number of words. 
Human Translations: Transifex offers human translations in 30+ languages. A unique feature called Crowdsourcing whereby they recruit volunteer users to work on their projects while an assigned member approves the translations submitted by recruited users.
Yearly-binding Contract and Monthly Invoicing: Transifex doesn't have a yearly-binding contract. If in a few months, you decide you need to re-access hosted words or features, you can always downgrade or upgrade at anytime! However, please note that the upgrade will be implemented immediately, while if you choose to downgrade, the decreased value will be billed only from next cycle.
Free Trial: Transifex offers a 15-day free trial where you can access the entire platform.
Features Comparison Table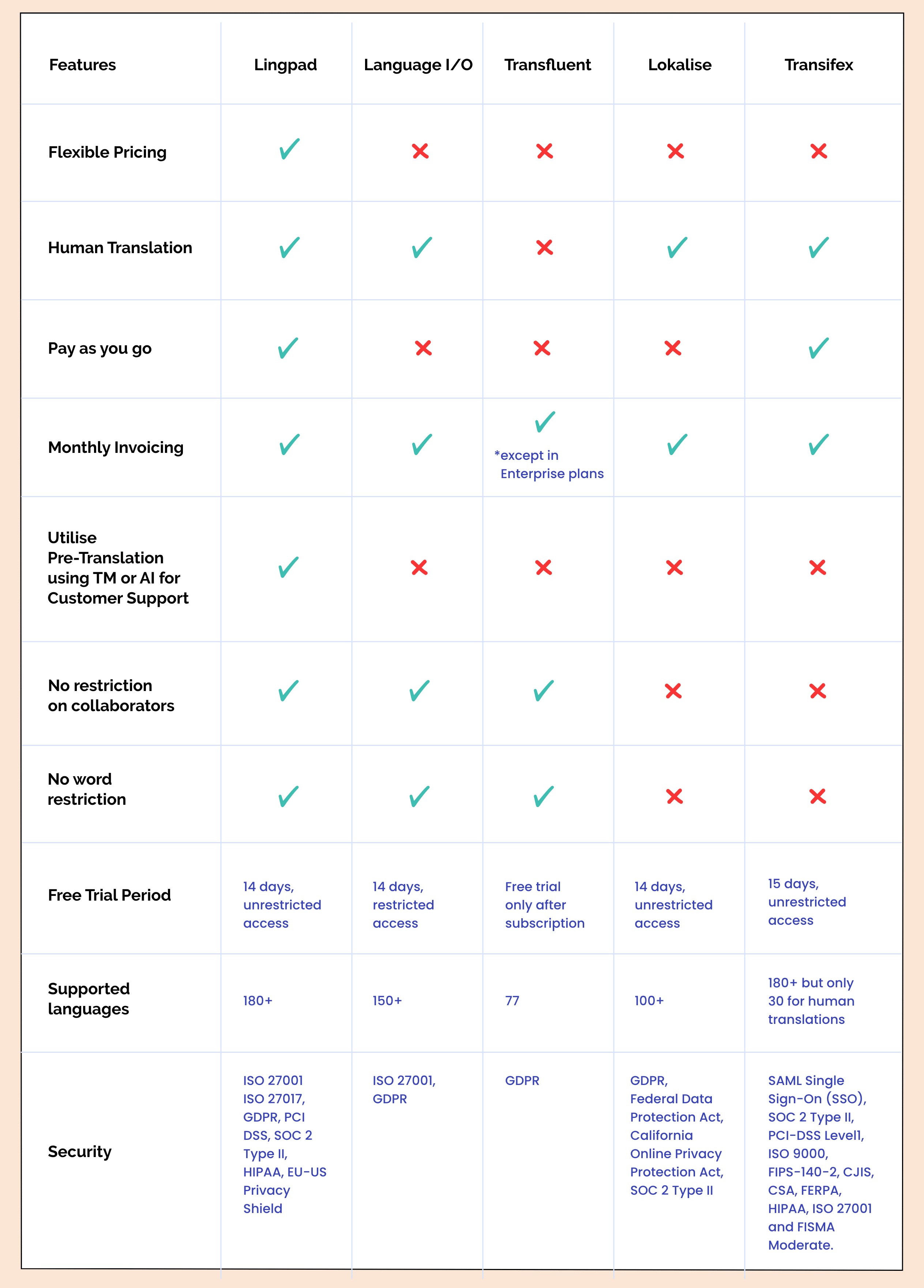 That was a brief comparison of the top Unbabel alternatives. Which one would you pick to bridge the gap between your multilingual customer service and experience excellence? Let us know in the comments below!