What's New @Lingpad in 2022 – First Quarter?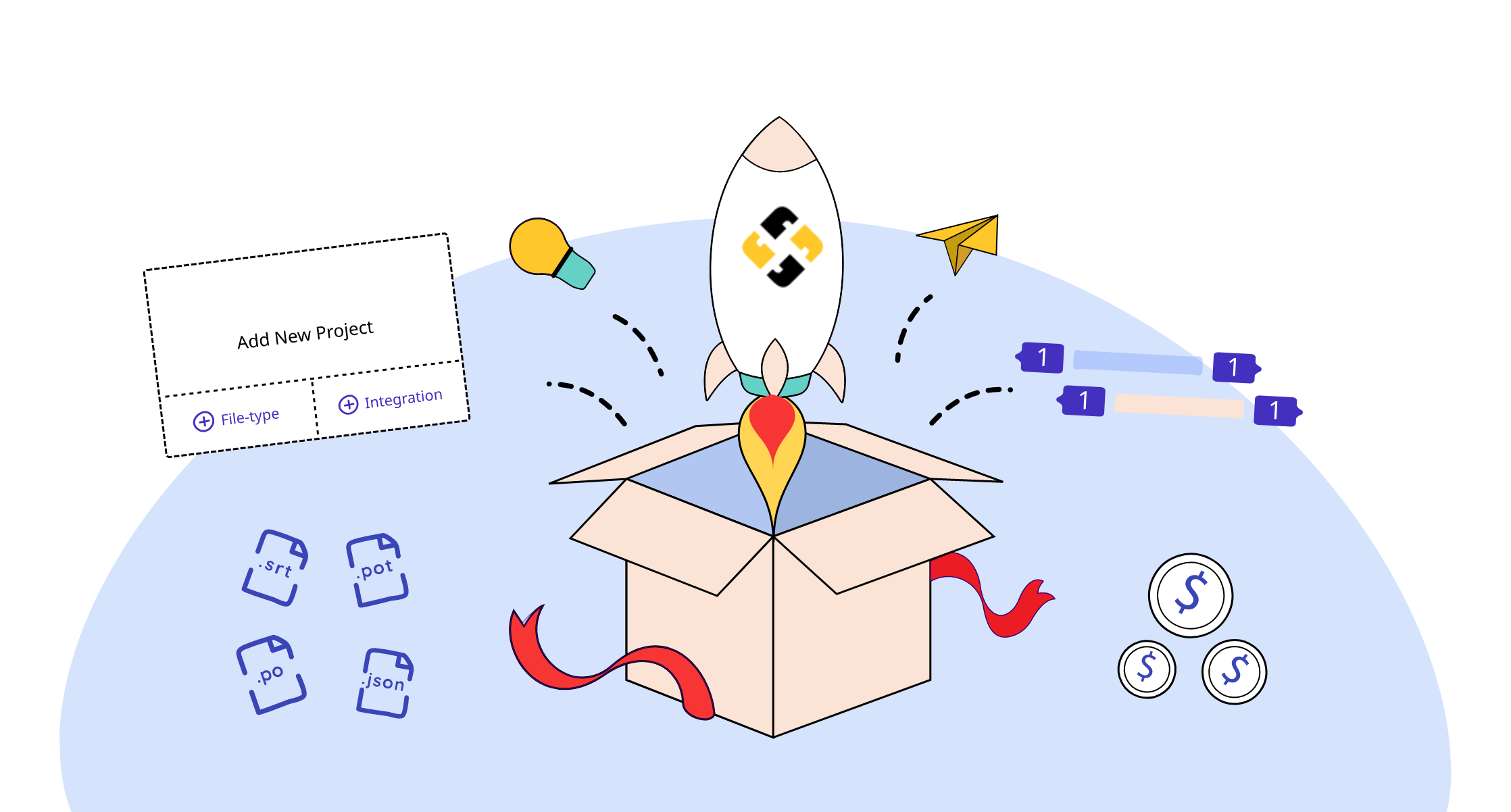 As an emerging organization in the B2B SaaS industry, the Lingpad team is committed to building a product that makes localization easy. We aim to support your gumption to have a global foot-print, and make the demanding task of localization a little easier. Our efforts are centred around you, Lingpad's users. Localizing involves a lot of variables, and if not managed properly, a single mistake can cost your brand. At Lingpad, we persevere to streamline and perfect the process, while making a product that is easy to use. In this drive to improve Lingpad, we have been working hard to bring new inclusions and product enhancements.
Supported File Formats - New Additions
Lingpad now supports SRT, JSON, XLIFF, PO and POT file formats. This will allow you to import the content you wish to localize – in any of these formats, order translations, and export the translations in the same file format. Streamlined localization process and improved productivity guaranteed!
For a full list of file types that Lingpad supports, head to our Knowledge Base – Supported file types for translation.
Every organization has varied needs. Hence it was clear to us right from the start that every organization's localization needs would differ too. So we thought, why have a one-size-fits-all pricing structure? After considerable debate between our leadership, sales and product teams, we decided that Personalized Pricing was the way to go. But does that mean you have restricted access to Lingpad? No!
The reason for personalized pricing was to tailor a pricing structure based on your localization needs. What do you want to achieve with Lingpad? Well, that depends on you! We give all our clients full access to collaborate across teams and departments, integrate with your existing tech-stack and come up with innovative business solutions.
Lingpad's Built-In CAT Tool — Editor — equips teams with amazing features that help them maintain the quality of translations. Previously, working on Editor meant working with HTML Tags, i.e. any source formatting such as Bold, Italics, Underline, etc. was added to the file content in the form of HTML codes. The readability was poor and translating documents was tougher. We always knew that we wanted to make translating documents a consistent and user-friendly process.
For example: 
File content: Lingpad – simplifying localization so that you can do what you do best – grow. 
HTML Code: <b>Lingpad</b> – simplifying localization so that you can do what you do best – grow.
Editor Tags: 👇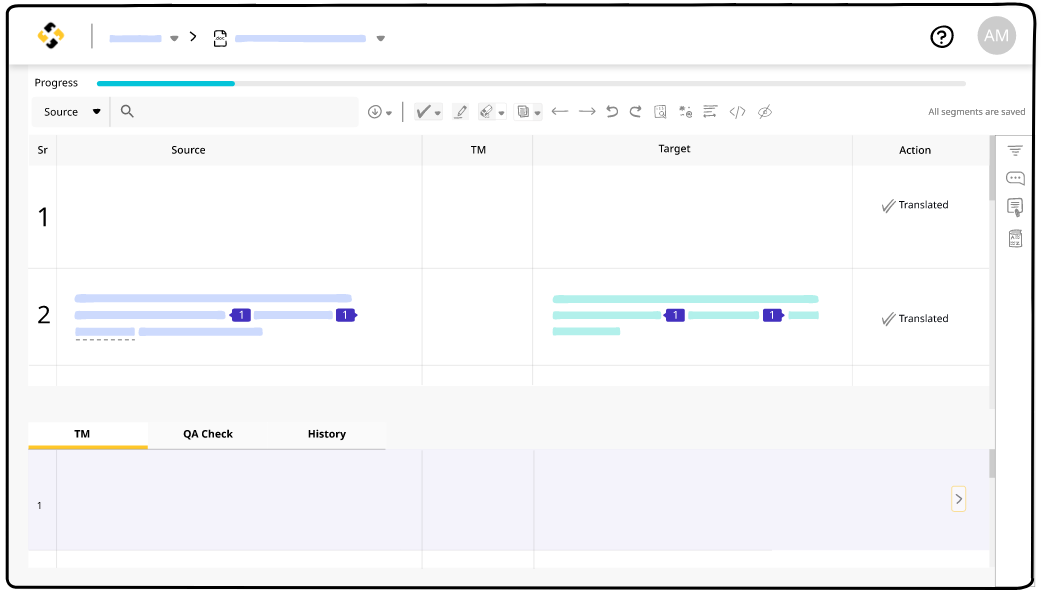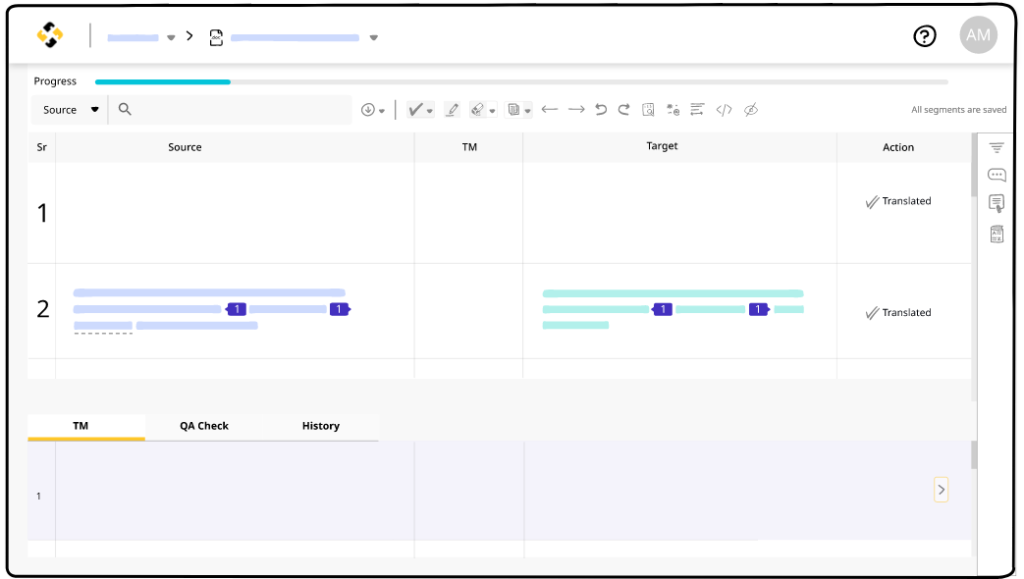 With Editor Tags:
Readability increases. Translators don't have to spend time differentiating between which part of the content is the HTML code for tags and the source content.
No chance for human errors. In the case of HTML Tags, if due to some error, the translator did not copy the ">" from the "</b>" part of the tag at the end, the Bold formatting would not reflect in the translated document.
Saves time. You won't have to compare the source file and translation file to ensure that the source formatting is maintained in the translated file.
How you start your journey on Lingpad is essential to your entire experience. So when we found out that the (old) project creation journey required you to create integration projects in a different manner compared to file-based projects, we decided to implement our product, design and coding skills to bring you the best of both journeys.
Now, you can create either project inside a Space. Files? Integration? Yes to both! The new project creation journey is easy to view, implement and more organized than before.
Improved DOCX File Segmentation
We have improved the .docx file segmentation, which results in:
simplified translation and QA processes
in building a better TM
Well, those are few of the biggest milestones we have achieved this year. May the localizations you start this quarter, end this quarter. We will be back with a whole new set of updates and upgrades. We are already working on a secret product inclusion…until then, keep using Lingpad and share your innovative journeys with us at hello@lingpad.com or through our socials – links below.👇