Why Is Multilingual Customer Service Important In Modern eCommerce?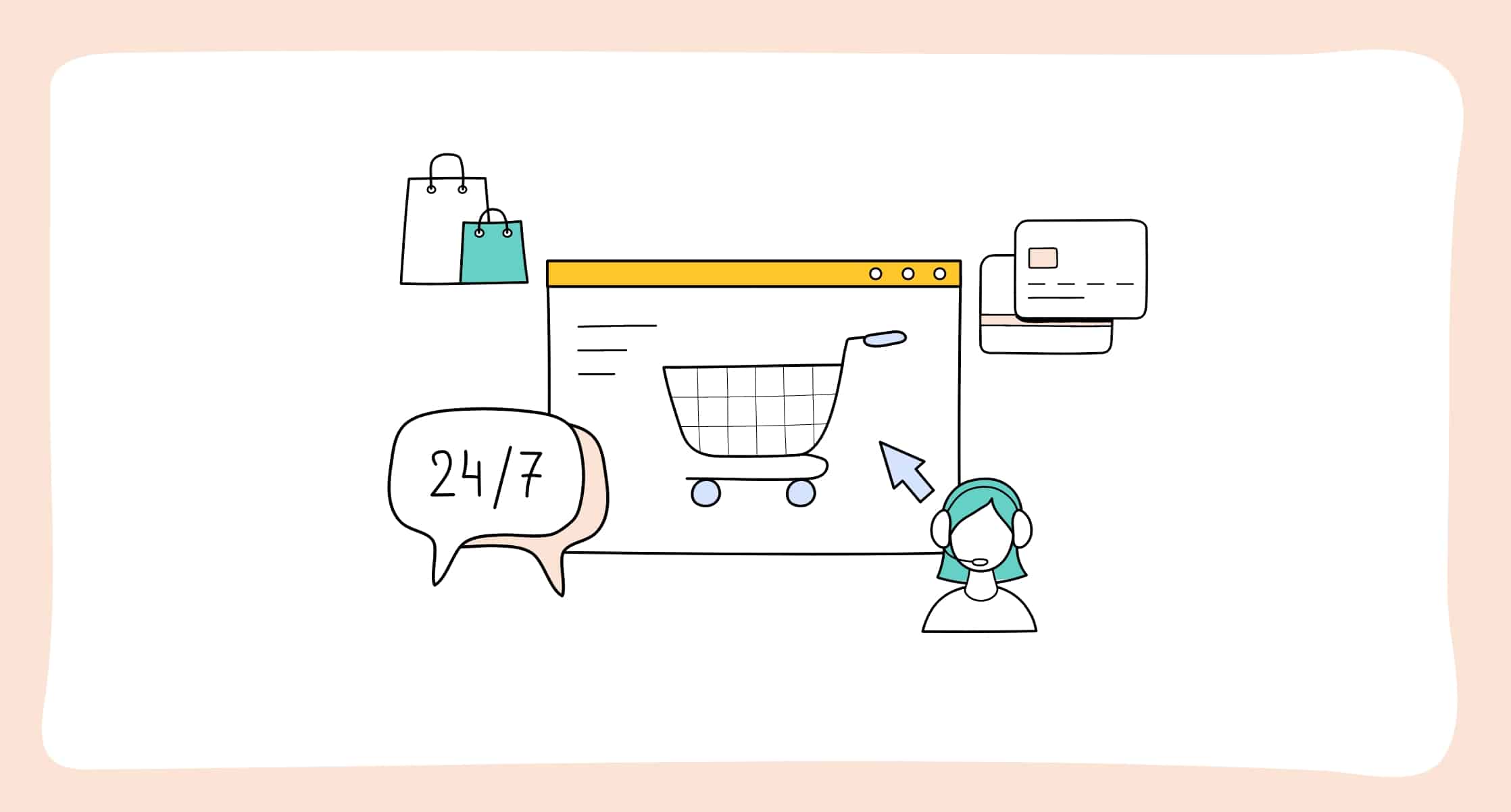 The minute you set up your digital storefront, your business gains the potential to attract the attention of hundreds or thousands or even millions of customers browsing the internet. The global marketplace is open for you to take over if you can decipher customer preferences and behavior of people hailing from different parts of the world.
Thanks to technology, customers across the globe can now connect with your eCommerce brand and make purchases. In such a dynamic situation, you must provide a stellar customer experience or risk losing out on business to your competitors. One way to become more customer-centric and convert first-time buyers to regular loyal customers is by implementing multilingual customer support for your eCommerce business.
74% of customers are more likely to repeat purchases from your brand if offered multilingual after-sales support. Multilingual customer service boosts brand advocacy as well as awareness, builds a positive brand reputation, and skyrockets your revenue.
However, with more than 7100 languages spoken worldwide, how can you provide a value-adding support experience to every customer?
The answer is a translation management system (or TMS)! That's right – a SaaS tool to enable automated translation, localization, and management of your customer service communication! It enables your customer support team to interact better with buyers in their native languages and brands to grow their presence across regions without draining their resources. Most TMS systems have a multilingual customer support feature that helps you see eye to eye with your customers, whether they speak German, French, or Mandarin. You can provide them with a personalized customer experience based on their language preferences without hiring multilingual personnel, making your process super cost-effective.
76% of online shoppers like to purchase from brands that provide information in their native language. Do you want to know more benefits of utilizing multilingual customer support for your eCommerce business?
Let's get into it!
Six benefits of multilingual customer service in modern eCommerce
Let's look at some of the advantages of a multilingual eCommerce customer service operation when implemented successfully across channels:
Contrary to popular belief, a significant percentage of customers prefer and are rather fluent in languages, other than English. When setting up shop to attract customers on a global scale, having your website function in a single language can result in a substantial loss in both brand sales and brand image.
This is why it is essential to have your online shopfront cater to multilingual customers. You can increase the number of prospective customers dramatically by converting your eCommerce store from a single-language website to one that is multilingual and, thereby, simple for customers worldwide to use.
Forget about the long, drawn-out planning processes, construction holdups, and extensive legal battles frequently occurring when expanding or incorporating a local company internationally. Using previously tested localization strategies, eCommerce businesses can quickly grow from startup to global success.
Beyond simple translation, localization tailors the entire user experience to a specific culture's requirements, considering social norms, religious convictions, geographic location, and much more. The personalization must be so thorough that a local user would assume the site was created and run from within their region. In terms of languages, this means you need to reach beyond the native-speaking population and look at global language trends, to identify the languages you need to support your customer base worldwide.
Failure to offer multilingual customer assistance puts global retail companies at the risk of losing out on 75% of B2B and B2C customers, who are much more likely to return to a brand if the after-sales support is provided in their native tongue.
Retailers must constantly work to entice and retain the loyalty of their customer base in the brutally competitive world of eCommerce. One apparent technique to attract people to your website is to make the browsing and purchasing processes as seamless as possible. Given that online buyers often choose the route of least resistance—switching sites rather than overcoming additional obstacles—this is a common strategy.
A customer has multiple brand options to choose from, so would they really choose you if your website is in a different language that they cannot comprehend or the content doesn't relate to their lives whatsoever? Obviously not, right? That is why more and more global eCommerce businesses are trying to provide a multilingual customer experience, to stay ahead of their competitors.
It is crucial that everything, from product descriptions to the checkout process and social media participation, is individualized to create a truly warm user experience; and that demands localization. Gain the first-mover advantage and establish yourself as your consumers' preferred option.
Customers trust customers and more than 57% of customers consider non-localization as a negative business trait. Harping on about being inclusive as a brand doesn't cut it; what you can do instead is offer multilingual customer support. The more customers feel comfortable interacting with your brand, the more goodwill it will breed amongst them, and when you ask them to review your products or services—you can be almost sure that the feedback will be positive (perhaps, glowing!).
Non-English speakers form a major segment of the global market and has a lot of untapped potential which if explored with the right strategies can skyrocket your brand into the spotlight and increase your sales exponentially. This is especially valuable advice if you are new in the eCommerce industry and want to establish a strong brand presence in a short time—multilingual customer support can be a great approach to help you improve brand awareness and get customers to trust you.
Here's why localization is important for your eCommerce business if you're expanding on a global scale:
Shopping is more comfortable for consumers when done in their native language;
Customers from various nations and cultures conduct their searches in different ways and with varied priorities; and,
Different default search engines exist in various regions of the world (you do not want to appear on just Google, do you?).
When you want to incorporate your business into a different country, you need to optimize and alter your site content, to match the localized SEO requirements. To rank high on a search engine in one language through SEO is challenging enough; in order to do so in a different language in a different country, you need to apply precisely focused SEO strategies used for the site's original language to the languages of each local market. This is known as multilingual SEO.
There is no requirement to include all known languages though. Instead, you can analyze where you are getting maximum traffic from and consequently, learn about which language is most spoken in that region. This can help you effectively incorporate localization for that particular region into your expansion plans. The most common languages spoken in the world include English (1,132 million speakers), Mandarin (1,117 million speakers), Hindi (615 million speakers), Spanish (534 million speakers), and French (280 million speakers).
Regarding eCommerce, the holiday season and the accompanying festivities bring a windfall that possibly exceeds revenue amassed during the entire year. Now, for someone residing in the United States, or Europe, holidays like Christmas and Thanksgiving (followed by Black Friday and Cyber Monday) have customers shopping like crazy. But that's not the case in India, where the same frenzy is seen during Dussehra or Diwali.
As a global retailer, it is imperative for you to understand the sale dynamics in different countries and curate offers and curtail prices, based on these scenarios. This is where a localized website and marketing efforts based on occasions and regions help you maximize your profits on an unprecedented scale.
A large psychological component of eCommerce is "impulse". Most shoppers purchase on impulse, and that is where customer experience makes a huge difference. When you serve customers on a global scale, ensuring that they have a stellar customer experience is very important – and being able to communicate their wants and needs in their own language definitely adds up positively.
In order to overcome language obstacles, you should personalize customer service corresponding to the language spoken by the particular audience segment, and provide a wonderful multilingual client experience, that can benefit your business.
Helping clients in their own language allows for far better communication because everyone can understand one another. In a similar manner, improved communication can help resolve problems quickly and remove obstacles to consumer feedback.
No matter how good the product or service you are selling is (to you), your customers are the ones who can market it the best, and help you gain more customers. Customer loyalty comes through exceptional customer support and when you offer them fast solutions to their problems in their own language – that builds the impression, that as a global brand, you care unequivocally about your customers.
A majority of customer service leaders swear that support, when provided, in the customer's native tongue boosted their satisfaction with customer support by 71.5% and resulted in an increase in brand loyalty by 58.4%. Customers view it as an additional effort made by the brand, and that fosters a strong lifetime customer relationship and unmatched brand loyalty.
How can Lingpad Help You Build a Multilingual Customer Service Experience for Your eCommerce Website?
Utilizing the power of a TMS, you can scale your customer support to serve customers in different languages worldwide. Lingpad is an AI-powered, cloud-based translation management system that aids in offering and managing multilingual customer support communication even with a small team. From chat support to help-center articles, you can localize all brand communication, personalize it in accordance with brand requirements, and add translations to Translation Memories (TMs) to lower expenses and boost productivity!
Let's explain this with an example. Suppose your customer service representative receives a query in French, but he only understands English. The Lingpad software translates the ticket automatically to the customer service agent's default language. To respond to the customer, the agent can place an order to translate the ticket — human or AI-powered translation — to French (from the Lingpad app) and send it back to the customer once their order is completed. Lingpad's selected network of qualified human Language Service Providers can provide accurate translations, removing the need to hire and train support agents fluent in multiple languages.
Lingpad integrates seamlessly with two of the most prevalent customer support software—Zendesk and Freshdesk. Your customer support team will be fully prepared to handle communication in over 180 languages by integrating the Lingpad App for Zendesk and the Lingpad App for Freshdesk. Make multilingual customer support effortless, with Lingpad!
eCommerce is a booming sector, and new brands are introducing themselves into the market every single day. In such competitive times, customer experience is key to gaining and retaining customers globally and generating sustainable revenue.
Lingpad's multilingual support system functionality can localize customer support tickets, help-center articles, FAQ guides, or knowledge base material being hosted on customer support applications into multiple languages, thus giving customers access to relevant information in their preferred language. This can assist your company in enhancing team productivity, increasing customer retention, and staying one step ahead of the competition. Achieve market-leader status in modern eCommerce by choosing Lingpad as your technology partner!