World's Leading Brands
Trust Lingpad AI
To Deliver Frictionless Multilingual Customer Support
Futuristic Features Built
To Scale
Your Knowledge Base Localization
Utilize GPT-powered feature to instantly translate segments with AI-powered translations or with existing translations from Translation Memories (TMs). Reduced turn-around-time at a fraction of the cost. 
Ensure brand tone is maintained for every article, in all languages. Select the perfect tone — formal, informal or a mix of both — for your AI-powered translations and elevate your customer communication game.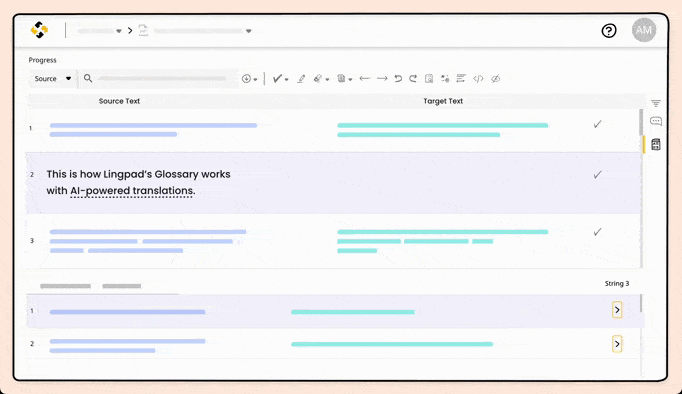 Optimize translations to be accurate and consistent minus the struggle. Lingpad AI's innovative feature auto-magically incorporates Glossary terms even for AI translations. Nothing will be lost in translation anymore!
SEO-friendly Translations
Get all your translations, syntax, and collaboration working in perfect sync from a single dashboard. Cross-check reference images, glossary terms, and comments from key stakeholders to ensure high-quality translations and speed up workflows.
Put your localization on cruise control! Our curated features empower you to select the status of the filled segments to 'Translated', 'Untranslated' or 'Approved' for Pre-Translation and AI-powered Translations. Once you choose, you can snooze!
Integrates With Your Tech Stack
Integrate your Zendesk, Freshdesk, and Intercom knowledge base seamlessly with Lingpad AI in a single click. With stellar features that complement your tech-ila stack, like salt complements your teq-uila shot; multilingual CX has never been easier!
Simplify Your Tech For
Your Non-tech Staff With

No-code Automation
Integrate and manage Lingpad AI's revolutionary functionalities to your customer support platforms seamlessly without any type of coding. Empower your customer support teams to focus on the 'human' side of the business, while Lingpad AI integrates, automates and publishes without minimal manual input.
Fast. User-friendly. Optimized For
All-round Efficiency.
Multilingual customer support communication for global regions is challenging, time-consuming and budget-draining. Un-challenge localization with an AI tool that does it all. 
Time Savings
Automatic translations facilitated by machine translation engines — trained by the best human and AI-powered systems — to render precise multilingual customer service in a matter of seconds.
Resource Savings
Empower your small CX team to become an army of superheroes. With Lingpad AI's cloud-based, automation-driven tool 1 CX agent can do the work of 5 CX agents; but quicker. Fewer agents = reduced training = resource saving!
Cost Savings
How can you save millions of dollars with Lingpad AI? Proficient machine translation engines to deliver human-level accuracy for your translations mixed with an automation-powered tool reduces cost of localization by a third. You are welcome, world.
Want To
Save 57%
On Translation Costs, Increase Efficiency By 82% And Reduce Costs By 49%?
Book a free demo to learn how to supercharge your multilingual customer service with Lingpad AI.