How Can You Provide Multilingual Customer Service Effectively?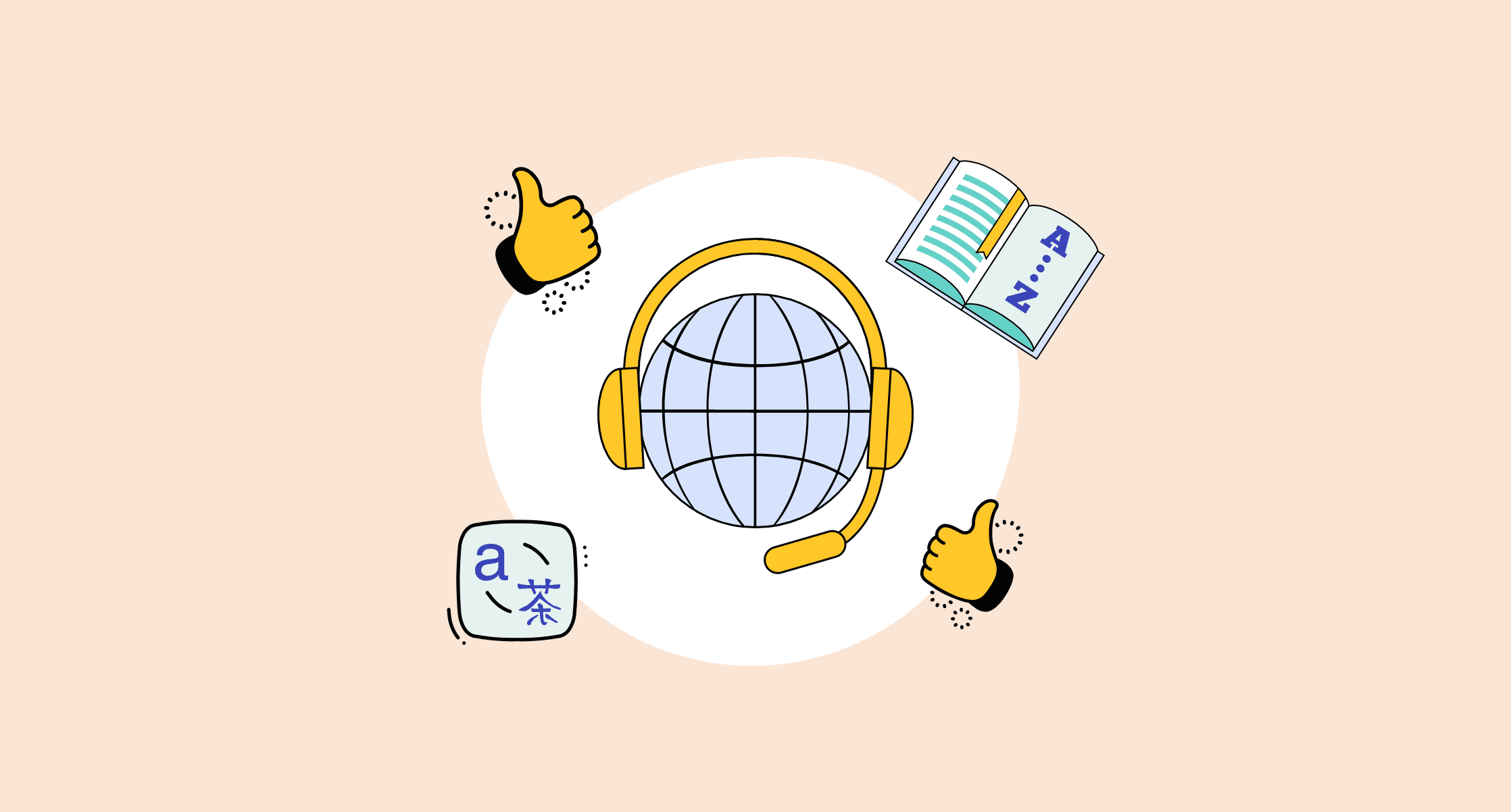 Most startups face fierce competition even before they launch their products or services in their relevant market. It is challenging to develop something unique, but attracting and influencing customers to purchase from your brand doesn't have to be. But how can you stand out?
One sure shot way is improving your customer service. If your brand caters to a global audience, nothing can elevate the customer experience more than you offering multilingual customer support! Research indicates that while 88% of customer service teams worldwide endeavour to provide multilingual support, end users who feel they have access to customer service in their native language is a meager 28%. As you can see, there is a vast disparity here, and you can take advantage of this to establish your company as a progressive and customer-centric organization.
Now that you have identified a gap, how do you go about making an opportunity out of it? The most significant pain point that companies need to overcome is to provide holistic, seamless multilingual support. You cannot just ask your customer service reps to tackle tickets by manually translating them on Google.
Finding the right people with relevant technical and soft skills would be best. In fact, this is how most organizations go – hiring talent proficient in more than one language. This initiative has paid off in most situations, especially since customers feel more comfortable talking to customer service agents in their native languages. This will ensure that your existing customers are happy with their experience of shopping with you and may even lead to an increase in sales of your product or service—since satisfied customers can turn out to be trusted advocates of your brand.
But this model of interaction is not scalable, whether you use in-house or outsourced help. With 85% of support managers struggling to hire reps who are fluent in more languages other than English, companies that serve customers on a global scale need a strategy that not just improves customer satisfaction but also increases operational efficiency.
Using a software service to manage your customer care interactions and automate translation and localization may facilitate your international business dealings with fewer misunderstandings! That is where a translation management system (or TMS) might help! It allows your customer care team to communicate more effectively with customers in their local tongues. An efficient TMS enables brands to expand their presence across regions without depleting their resources.
Regardless of the language your customers communicate in; most TMS systems have a multilingual customer support feature that can help you effectively interact with them. Without employing multilingual staff, you can give consumers a personalized customer experience depending on their preferred languages, thus reducing the cost of the process significantly while streamlining your customer support functionalities.
Do you want to know five ways to provide multilingual customer support that will set you apart from your competitors and establish your brand as a market leader within your industry?
Let's get started!
Five Best Ways To Provide Multilingual Customer Service
Now, your primary objective for providing multilingual customer service is to build greater brand awareness, market to the global audience, and elevate the customer experience so that you retain most of your buyers for a lifetime. The tactics mentioned below can help you do all that and so much more!
Ready to put the best foot forward with your customers from across the globe? Here we go!
Improve Self-service Support with an Extensive Knowledge Base
You know customers prefer self-service over contacting customer support agents when 39% of them say they can resolve issues much faster through the first option. Does that mean your customer service reps are redundant? Of course not! But it indicates that your company should invest a significant amount of time and effort in developing self-help docs and a comprehensive online knowledge base so that customers can find the answers to resolve their concerns by themselves.
A multilingual knowledge base may contain how-to manuals, frequently asked questions, and other materials. Customers and your support staff benefit when they can independently locate the solutions to their questions. While the former receive the assistance they require immediately, the latter can dedicate time to concentrate on more complicated problems.
To ensure that the material in a multilingual knowledge base is accurate and understandable, it is crucial to use high-quality translations. You can either employ machine translation as a starting point, then have experts review the machine translations with a fine-tooth comb and revise it if needed, or hire qualified human translators.
Some advantages of self-service assistance include:
reduction in workload for your customer support team;
less wait time for your customers compared to chat queues, where they would have to wait for an agent to answer their queries; and,
increase in site traffic accompanied by a decrease in customer service costs over time.
Practice Your Team's Customer Service Skills
There are things that are more important than the native language, and if your customers feel their overall experience is poor with your brand, you can rest assured that your competition may snap them up in seconds! To prevent such an outcome, you must realize that if you are pushing multilingual customer service as a brand, you must teach and train your customer service agents in the nuances of the language and the culture behind each demographic segment of your target audience.
84% of B2B clients will likely transact with your brand, if you take the time to understand their needs and goals. This is why it is always a great idea to continuously train your customer service representatives in essential customer service skills.
You can help your customer service reps provide stellar customer service by:
Your personnel will be able to handle any problems that arise if they have extensive product/service knowledge. Customers welcome the quick resolution times because no one really wants to be on hold for hours.
Not every client will be easy to work with. Even when customers aren't cooperating, customer service representatives should always be kind and patient with them.
It is simple to guess what a customer needs after hearing similar questions every day. Making assumptions, however, can result in an incorrect answer leading to a dissatisfied and sometimes aggravated client.
Localize Digital Content and Adjust Your Operating Hours
While Google frequently automatically translates web pages into a website visitor's native tongue, localizing the content guarantees that your content remains of the highest caliber and maximizes its impact.
Basic translation mistakes, such as mistranslated terms, can often mislead clients and deteriorate the user experience. To avoid losing out on the value of your intended message, you should have your content professionally translated and localized. Localization extends beyond straightforward translation. Customers enjoy how it offers your website and content a local feel.
A win-win situation for both parties occurs when your clients comprehend your content and may frequently obtain the solutions they require without contacting customer support. 75% of internet users may better engage with your content if you localize it to provide multilingual customer support.
While adjusting your digital content to the taste of native language speakers, you can also change your operating hours to correspond with your customers' time zones. It is an additional but crucial component of offering multilingual customer service. Nobody enjoys asking for help only to learn that they must wait several hours or even days for a response.
You can lessen this kind of frustration and guarantee that everyone gets the assistance they need on time by providing customer support when your customers are most likely to need it.
Real-time Translation for Chatbot and Multilingual Voice Search Option
68% of consumers prefer chatbots to live agents, owing to the ease of receiving fast replies. Customers don't have to wait for a live representative to answer their questions in their preferred or native language. Instead, they can acquire the information they need in their own language in a quicker and more efficient manner. Real-time translation can make chatbots even more efficient, which is a terrific method to rapidly and effectively resolve support queries.
The accuracy of modern machine translation is constantly increasing and is based on neural networks. Integrating a machine translation API to your existing chatbot or using a chatbot platform with built-in translation tools, your customers can extract real-time translated information.
Leading from this, you can also offer your customers an option for multilingual voice search. As more and more customers use voice-activated assistants like Amazon Alexa and Google Home, you must ensure your customer care information is voice search optimized.
You may also ascertain if your content is appropriately categorized and prepared for voice search in all the languages you offer to prevent upsetting clients with erroneous results. As regional accents might affect how voice assistants interpret requests, you might even want to think about developing several versions of your material for various locations with the same language.
Employ Online Language Translation Tools
Last but not least, if you lack the funds or budget to hire more staff, your best option can be a language-translation tool. The costs associated with translations that result from human error, pointless email correspondence, and time spent uploading content and searching databases can be reduced by 90% with the use of the appropriate online language translation tools.
Your customer support representatives should not have to constantly copy and paste questions and their responses to address multilingual queries. The greatest solutions let you translate communications automatically into the language of your choice. However, free translation platforms can be used if you're in a real monetary bind.
How Can Lingpad Help You Deliver the Best Multilingual Customer Support?
Fast, effective customer service shouldn't be hindered by language. With the proper equipment, customer support agents can promptly serve clients worldwide, increasing customer satisfaction and loyalty over time.
Utilizing a TMS's capabilities is a great way to scale your multilingual customer assistance. And that's where Lingpad can make a difference for you! It is an AI-powered, cloud-based translation management solution that allows you to provide and manage multilingual customer care, even with a small number of customer support reps. You may localize all brand communication – from chat support to help center articles, personalize it in accordance with brand requirements, and add translations to Translation Memories (TMs) to reduce costs and increase productivity!
Let's explain this with an example. Let's say your customer support agent only speaks English and receives a question in German. When a ticket is opened, the Lingpad software automatically translates it into the customer service agent's preferred language. Once the issue has been resolved, the agent can order a human or AI-powered translation of the ticket into German from the Lingpad app and then send the translated ticket back to the customer. With the help of Lingpad's carefully curated network of experienced Language Service Providers, your company won't need to hire individuals who speak various languages to get high-quality translations.
Lingpad fully integrates with two of the world's most well-liked customer support software products, Zendesk and Freshdesk. One of the significant components of efficient multilingual customer service is facilitating assistance to your international customer base in their native tongue.
Lingpad can provide you with a significant advantage in this situation. Use the API interfaces with Zendesk Guide, Freshdesk Knowledge Base, or Intercom Articles to translate and localize your help center or knowledge base content. After importing the content from their knowledge bases, Lingpad localizes it before exporting it back. Since your consumers may access self-help whenever they want, your customer support personnel can use their time to address more complicated problems that call for human intervention.
Your customer support team will be fully equipped to handle customer interaction in more than 180 languages by integrating Lingpad App for Zendesk or the Lingpad App for Freshdesk into the respective customer support platforms. Through effective multilingual customer service (Read our latest blog to know how these four companies are excelling at multilingual customer support), Lingpad makes it simple to maximize efficiency and raise your customer satisfaction ratings.
When it comes to providing successful multilingual customer service, planning is essential. You should be able to see the big picture, be aware of your goals, and have a strategy in place.
As you create a plan, you must take the following factors into account:
Along with these questions, you must also consider how to make your multilingual customer service as customer-focused as possible. To do this, you need to know the answers to the following:
There is no single optimum strategy to provide the best multilingual customer support – you can only explore several approaches until you identify the ones that work the best for your brand. However, the suggestions we provided above are a great place to start.
Using Lingpad's multilingual support system functionality, you can localize customer support tickets, FAQ guides, or knowledge base content hosted on your preferred customer support applications into multiple languages. This can help your customers access pertinent information in the language they are most comfortable communicating in. It will allow your business to increase team efficiency, boost client loyalty, and stay ahead of the curve where your competitors are concerned.
Provide a one-of-a-kind customer experience and establish your brand as a forward-thinking industry leader by effectively offering the best multilingual customer support using Lingpad!